Background
One of the most prominent barriers to virtual care are the antiquated state licensure laws that limit the ability of health care providers to see patients across state lines. State lines create artificial barriers to the delivery of care – complicating access for patients and creating additional burden on clinicians. These lines sometimes split major urban areas and hamper the ability of telemedicine providers to fill in gaps in the delivery system and provide high value care directly to consumers in rural or underserved areas. Current efforts to expand interstate licensure have been insufficient to meet the needs of patients and the clinicians seeking to better serve them.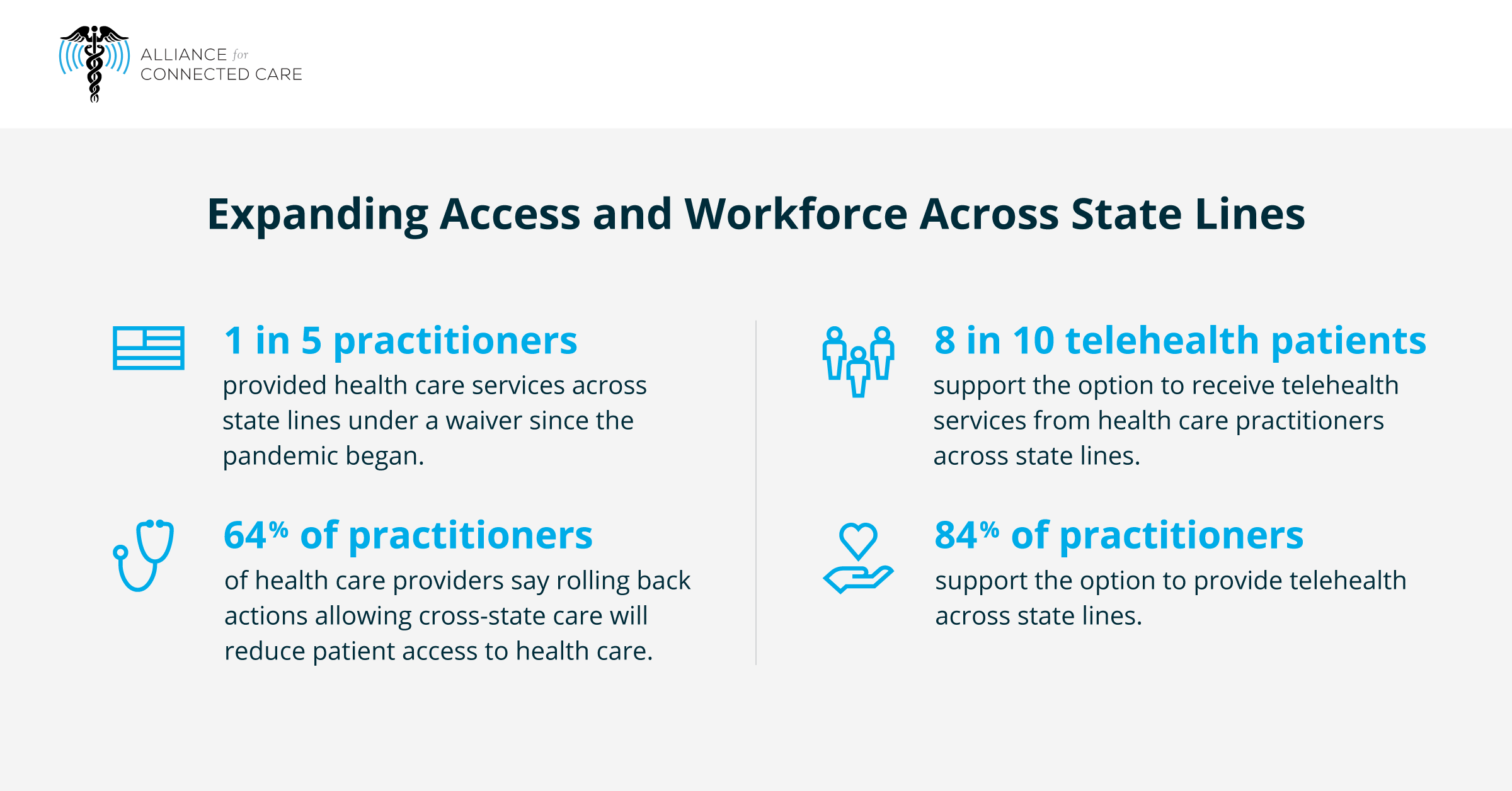 Health care professionals are prohibited from treating patients in states where they are not licensed, but the state-by-state licensing processes are burdensome and expensive. Uniform national standards across clinical practice areas are in place, but there is wide variation in state licensing processes. In the case of physician licensure, all states require postgraduate training, proof of successful completion of all three steps of the U.S. Medical Licensing Examination, and training verification forms. However, some states add additional unique requirements for medical licensure such as background checks, fingerprinting, completing continuing medical education requirements, providing additional documents such as birth certificates, or even character witnesses. Another barrier is the expense. Licenses in a single state can cost upwards of $1,000, and application fees on top of licensing fees can add up.
Impact of COVID-19 on Licensure
COVID-19 has exposed the barriers posed by the fragmentation of state practice act laws and regulations. The ability for licensed, credentialed health care professionals to provide patient care across state lines via telehealth during the pandemic helped maintain continuity of care, promoted patient choice, helped address workforce shortages, and improved care coordination. Telehealth also helped improve patient access to primary and specialty care, boosted patient and caregiver engagement, reduced missed appointments, and improved post-operative care.
At the outset of the pandemic, the federal government took action at the start of the pandemic to address care across state lines. CMS temporarily waived requirements that out-of-state Medicare practitioners be licensed in the state where they are providing services when they are licensed in another state. CMS also released guidance stating that state Medicaid agencies could use Section 1135 waiver authority to permit providers located out of state to provide care to another state's Medicaid enrollee impacted by the COVID-19 emergency.
Governors across the country also took action to address licensure laws to ensure access to care. These licensure flexibilities provided health care practitioners more flexibility to treat patients in other states when there were pressing needs or specialized expertise not available where they lived. Our experience during the pandemic has provided an unprecedented opportunity for patients, providers, and policymakers to explore the impact of cross-state care. We have seen it benefit the delivery of health care in many ways, but most notably through new avenues for patient access to care.
As state emergency declarations enacted at the start of COVID-19, including licensure and telehealth flexibilities, began to expire, providers had to go back to cumbersome and expensive state-by-state licensing requirements if they wanted to continue to help patients in other states. Without a glidepath or permanent policy measures to adjust to these changes, patients have to either travel long distances to see a provider in person or cancel appointments, which creates a barrier to accessing convenient care and to continuity of care.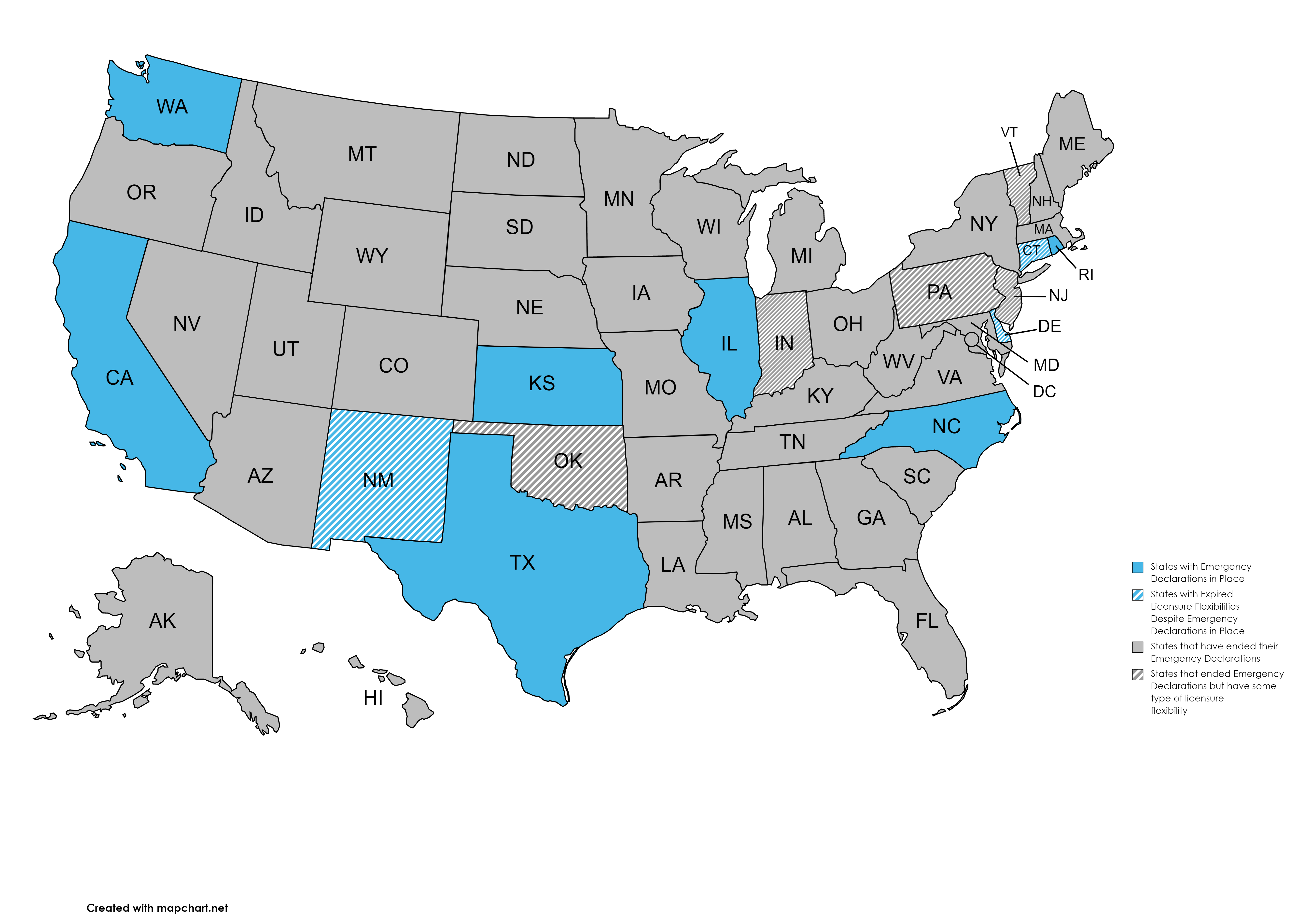 Alliance Advocacy Highlights
The Alliance has championed a number of initiatives to address this issue and advocate for more flexibility to provide care via telehealth across state lines. See below for our advocacy on this issue. Please contact Rikki Cheung at rikki.cheung@connectwithcare.org if you have any questions about this topic.
Featured Advocacy: Letter to Governors on Care Across State Lines
On November 1, 2021, more than 230 organizations sent a letter to all 50 state governors urging them to maintain and expand licensure flexibilities enacted at the start of the pandemic for the duration of the federal public health emergency, to better address patient needs during the ongoing pandemic. The letter was convened by the Alliance for Connected Care, ALS Association, and National Organization for Rare Disorders (NORD), and includes a diverse mix of signers ranging from patient advocacy organizations, hospitals and health systems, academic medical centers, higher education, digital health companies, health information management associations, and many more.