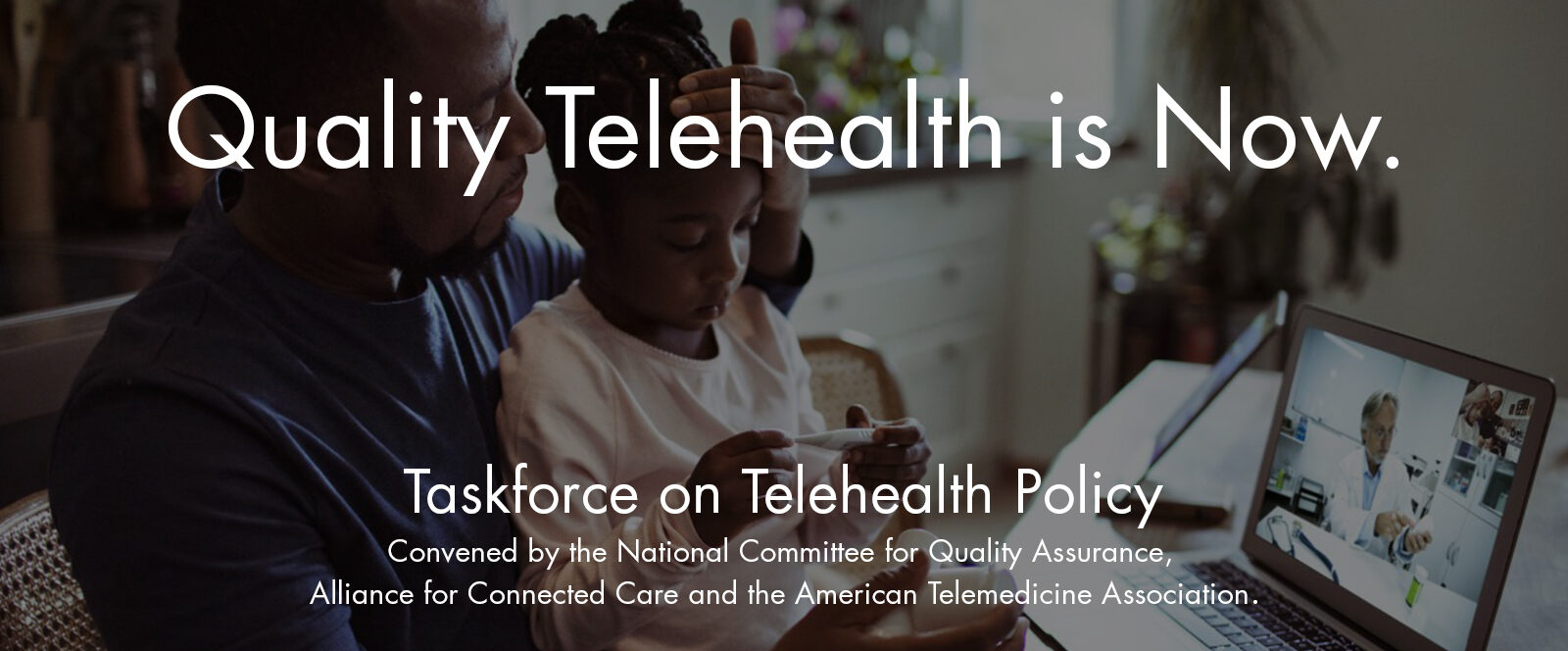 Taskforce on Telehealth Policy Issues Final Report
Remote healthcare recommendations set guidelines for policymakers
Report  – Public Release Slides 
Twenty-three of the nation's leading healthcare experts released their much-anticipated final report on Tuesday, September 15, identifying challenges and opportunities for telehealth in the wake of the COVID-19 pandemic. The Taskforce on Telehealth Policy, convened by the National Committee for Quality Assurance, the Alliance for Connected Care, and the American Telemedicine Association, spent the summer building consensus among its members on a comprehensive set of findings and recommendations.
Taskforce members – representing a broad spectrum of health plans, providers, consumer advocates and health quality experts from the public, private and non-profit sectors – see the report as a blueprint for how policymakers can harness the rapid expansion of telehealth and create lasting healthcare improvements that prioritize patient safety, quality, and equitable access to care.
"This report sets the stage for the clear, decisive action from policymakers," said Krista Drobac, Executive Director of the Alliance for Connected Care. While there is a need for continued data collection and thoughtful regulation, this report demonstrates that both patients and clinicians agree that remote care options should remain available after the public health emergency comes to an end."
Watch the full webinar of the Taskforce's findings and recommendations below:
Recommendations
The Taskforce on Telehealth Policy posted the full report online for public review. Highlights of the report's key findings and recommendations include:
Telehealth is the natural evolution of healthcare into the digital age. It is essentially a setting or modality of care, rather than a type of care. As such, it should be held to the same standards and quality measures as in-person care wherever possible and appropriate.
Early data suggests that telehealth has substituted for a good deal of in-person care during the pandemic without increasing overall costs. Studies show that It can also relieve travel burdens, risks, and care delays, improve behavioral care access, and reduce missed appointments, costly transfers to hospitals and emergency departments and hospital readmissions.
Policymakers must expand efforts to ensure access to broadband and technology infrastructure to promote equity and not exacerbate care disparities as healthcare moves into the digital age.

Policymakers should maintain the following specific COVID-19 policy changes:
Lifting geographic restrictions and limitations on originating sites.
Allowing telehealth for various types of clinicians and conditions.
Acknowledging that telehealth visits generally can meet requirements for establishing a clinician/patient relationship.
Lifting restrictions on telehealth across state lines.

Full enforcement of the privacy provisions of the Health Insurance Portability and Accountability Act (HIPAA) should resume when the current public health emergency ends.
The ongoing move from fee-for-service to value-based arrangements in healthcare should enhance the ability of patients, payers and providers to leverage telehealth's potential.
A full list of Taskforce on Telehealth Policy Members is below:
Peter Antall, MD, Chief Medical Officer, Amwell
Regina Benjamin, MD, Chief Executive Officer, BayouClinic/Gulf States Health Policy Center, former Surgeon General of the United States
Kate Berry, Senior Vice President of Clinical Innovation, America's Health Insurance Plans
Krista Drobac, Executive Director, Alliance for Connected Care
Yul Ejnes, MD, Clinical Associate Professor of Medicine, Brown University; Board of Regents Chair-Emeritus, American College of Physicians
Rebekah Gee, MD, Chief Executive Officer, Louisiana State University Health System
Nancy Gin, MD, Executive Vice President of Quality & Chief Quality Officer, The Permanente Federation, Kaiser Permanente
Kate Goodrich, MD, Senior Vice President Trend and Analytics, Humana
Chuck Ingoglia, President & Chief Executive Officer, National Council for Behavioral Health
Ann Mond Johnson, Chief Executive Officer, American Telemedicine Association
Megan Mahoney, MD, Chief of Staff, Stanford Health Care, Clinical Professor, Division of Primary Care and Population Health, Stanford University
Chris Meyer, Director of Virtual Care, Marshfield Clinic
Ricardo Munoz, MD, Chief, Division of Cardiac Critical Care Medicine, Executive Director, Telemedicine, Children's National Health System, Co-director, Children's National Heart Institute, Professor of Pediatrics, The George Washington University School of Medicine
Peggy O'Kane, President, National Committee for Quality Assurance
Kerry Palakanis, DNP, APRN, Executive Director, Connected Care Operations, Intermountain Healthcare
Michelle Schreiber, MD, Federal Liaison, Director, Quality Measurement & Value-Based Incentives Group, Center for Clinical Standards & Quality, Centers for Medicare & Medicaid Services (non-voting)
Dorothy Siemon, JD, Senior Vice President for Policy Development, AARP
Julia Skapik, MD, MPH , Medical Director, Informatics, National Association of Community Health Centers
Jason Tibbels, MD, Chief Quality Officer, Teladoc Health
Nicholas Uehlecke, Federal Liaison, US Department of Health & Human Services (non-voting)
Andrew Watson, MD, Vice President, University of Pennsylvania Medical Center
Cynthia Zelis, MD, MBA, Chief Medical Officer, MD Live
The Alliance for Connected Care is proud to be partnering with NCQA and the American Telemedicine Association to launch the Taskforce on Telehealth Policy to develop recommendations to Congress on permanent telehealth policy. View background on the initiative.