Building on our important work as part of the Taskforce on Telehealth (view our final report here), the Alliance for Connected Care continues to collect data necessary to make the case for permanent telehealth policies.  We are seeking to understand what we have learned about telehealth utilization and its effect on prevention, urgent care, transportation, and etc.  Our goal is to educate a conversation about what impact expanding telehealth access in Medicare will have on federal budgeting models.
In our efforts to gather data on cost, we are asking organizations, health systems, or providers to submit data on telehealth during COVID-19. Below we have presented federal and health system telehealth data.
Top Questions:
Utilization data: to what extent is telehealth serving as a replacement for in-person care?
No-show Rates: Were no-show rates reduced, and if so, by how much?
Post-discharge: Were post-discharge transition codes (99495 and 99496) billed at a higher rate?
SNF Transfers: Did telehealth resolve skilled nursing facility -resident issues without transfer, i.e. were transfers to hospitals lower without compromising patient care?
Imaging: What happened to orders for imaging for telehealth visits, were they higher or lower for commensurate in-person care?
Please submit your data/research to crystal.wallace@connectwithcare.org.
Centers for Disease Control and Prevention (CDC): Trends in Use of Telehealth Among Health Centers During the COVID-19 Pandemic — United States, June 26–November 6, 2020
What is added by this report?
During June 26–November 6, 2020, 30.2% of weekly health center visits occurred via telehealth. Telehealth visits declined as the number of new COVID-19 cases decreased but plateaued as the number of cases increased. Health centers in the South and rural areas consistently reported the lowest average percentage of weekly telehealth visits.
What are the implications for public health practice?
As the COVID-19 pandemic continues, maintaining the expansion of telehealth remains critical to providing access to care.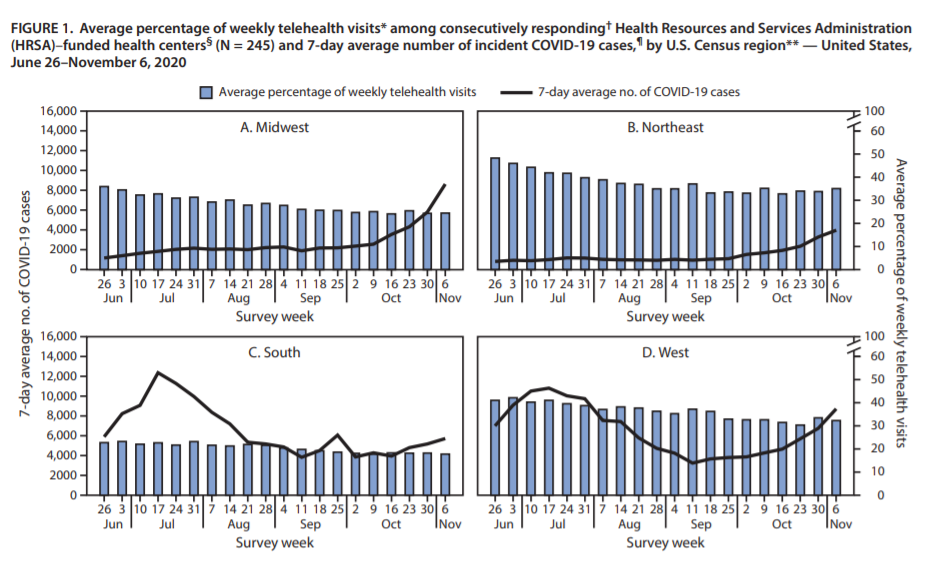 CDC: Trends in the Use of Telehealth During the Emergence of the COVID-19 Pandemic — United States, January–March 2020
What is added by this report?
The 154% increase in telehealth visits during the last week of March 2020, compared with the same period in 2019 might have been related to pandemic-related telehealth policy changes and public health guidance.
What are the implications for public health practice?
Telehealth could have multiple benefits during the pandemic by expanding access to care, reducing disease exposure for staff and patients, preserving scarce supplies of personal protective equipment, and reducing patient demand on facilities. Telehealth policy changes might continue to support increased care access during and after the pandemic.
The age and sex of patients who accessed telehealth services in this analysis were similar to those seeking telehealth services in other studies (1). Substantially more telehealth visits were made during the first 3 months of 2020 than during the same period in 2019; whereas visits to EDs sharply declined. Other researchers have noted a marked overall increase in the use of telehealth services in the latter weeks of March 2020 and sharp declines in the use of EDs. Overall, an estimated 41%–42% of U.S. adults reported having delayed or avoided seeking care during the pandemic because of concerns about COVID-19, including 12% who reported having avoided seeking urgent or emergency care.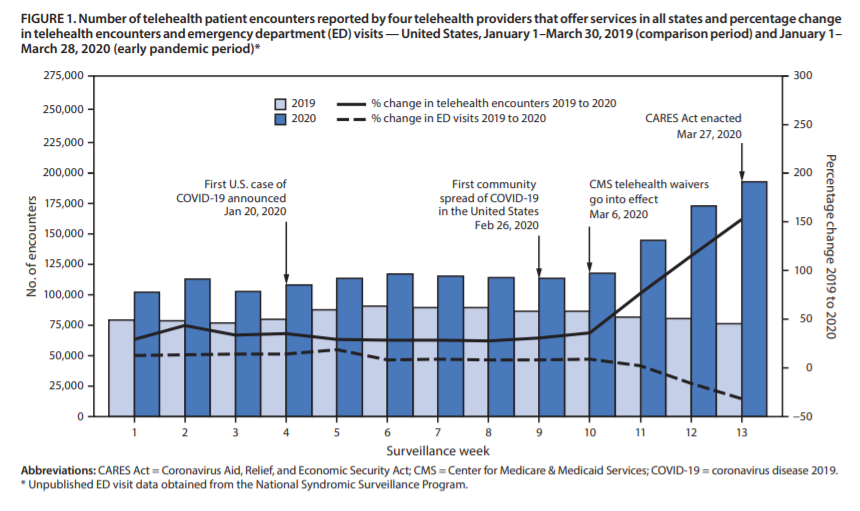 ASPE Issue Brief: Medicare Beneficiary Use of Telehealth Visits: Early Data From The Start Of The Covid-19 Pandemic
The analysis found Medicare primary care visits dropped precipitously from mid-March at the start of the pandemic, at the same telehealth visits increased for primary care. Nearly half of Medicare primary care visits were provided via telehealth in April, compared with less than one percent before the PHE in February. However telehealth use was lower in rural areas.
The report concludes there is evidence that Medicare's new telehealth flexibilities played a critical role in helping to maintain access to primary health care services – when many beneficiaries and providers were concerned with transmission of COVID-19. Future research could examine whether these flexibilities were effective and if telehealth may have improved access to care and health outcomes among underserved beneficiaries.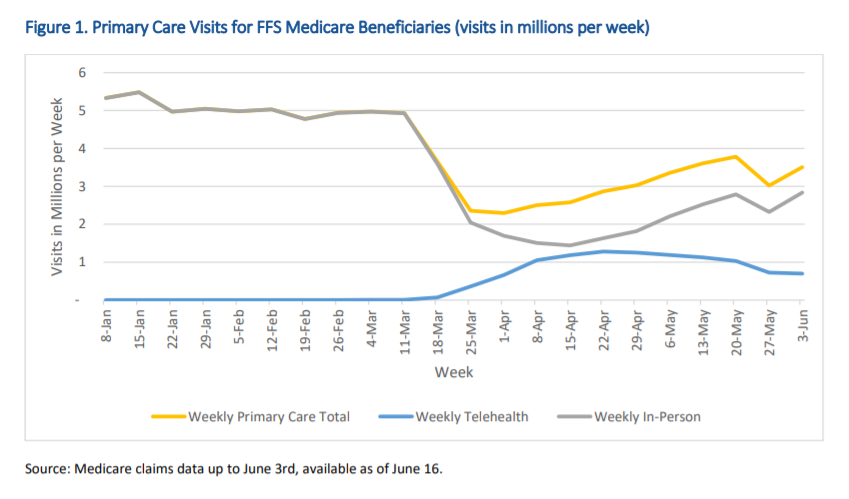 Please find linked below data on telehealth utilization in order from newest to oldest, followed by alphabetical order for:
Stanford Health Care
Ascension
Centerstone
Coastal Medical, Inc.
Cook County Health
Intermountain
Johns Hopkins Medicine
Marshfield Clinic
Nemours
Northwestern
Third Eye Health
Thomas Jefferson
UPMC
Aledade
Stanford Health Care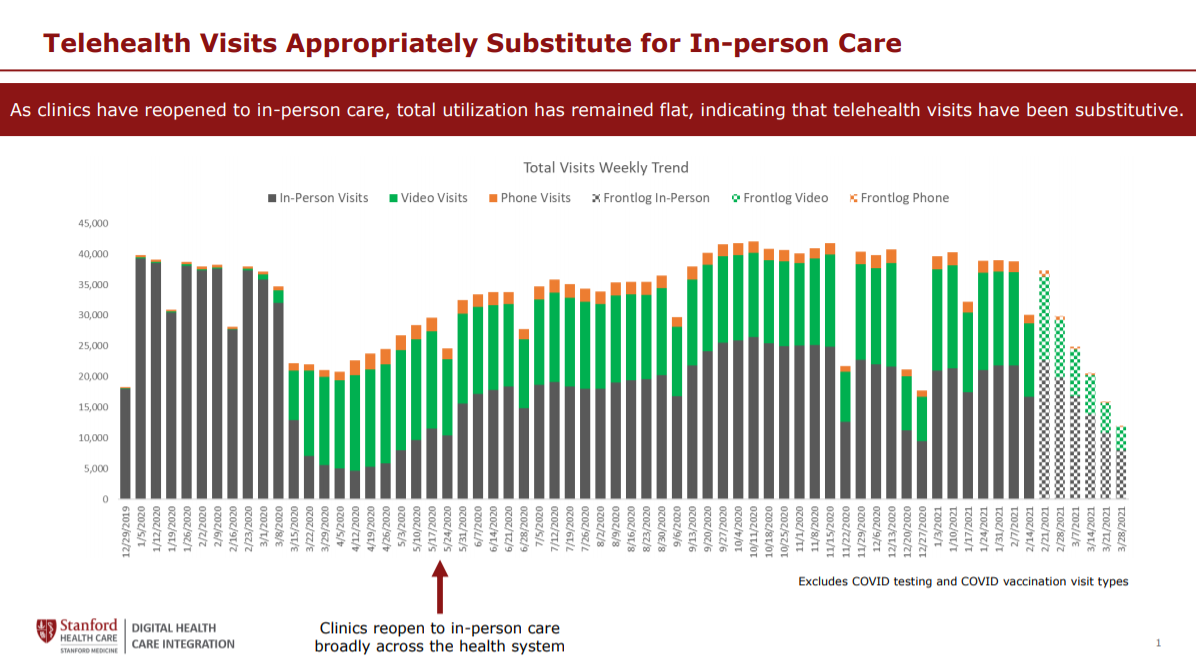 Ascension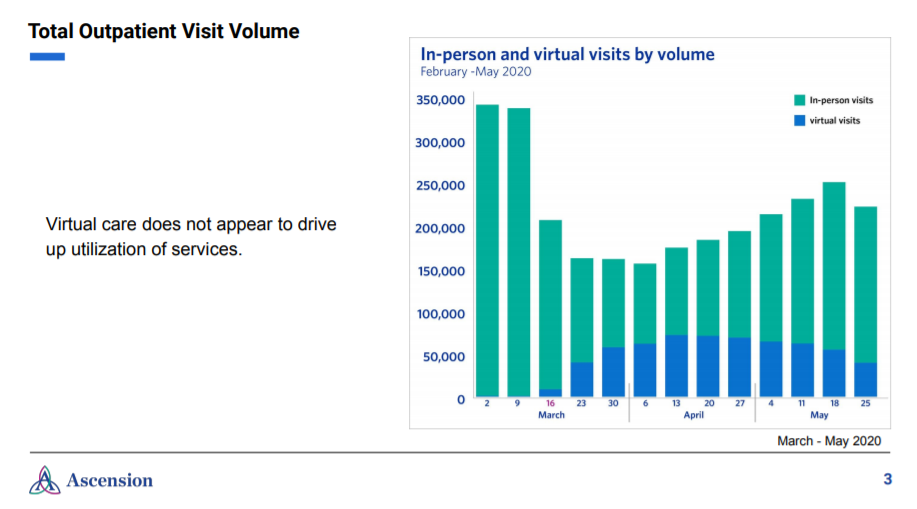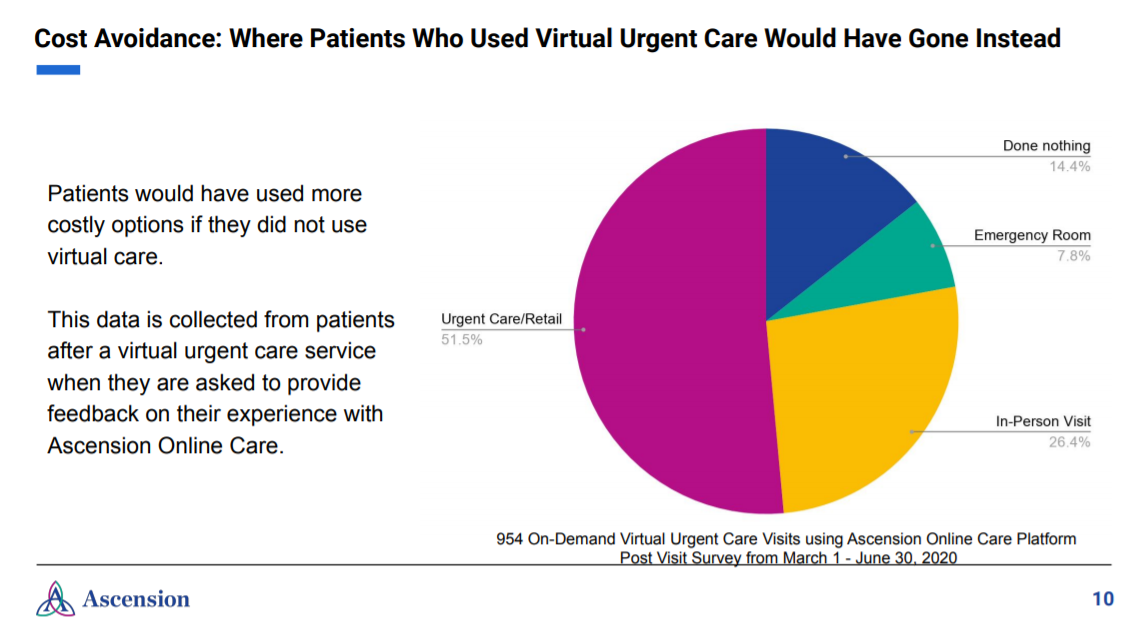 Centerstone


Coastal Medical, Inc.

Cook County Health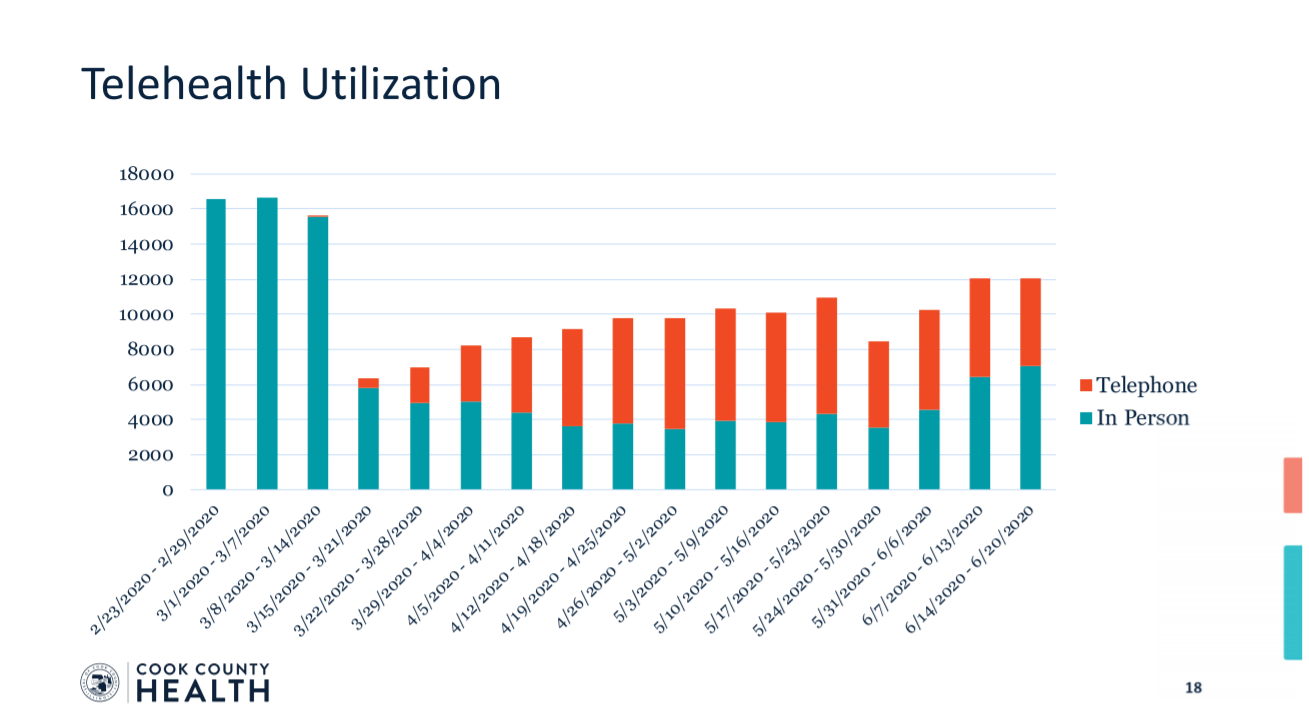 Intermountain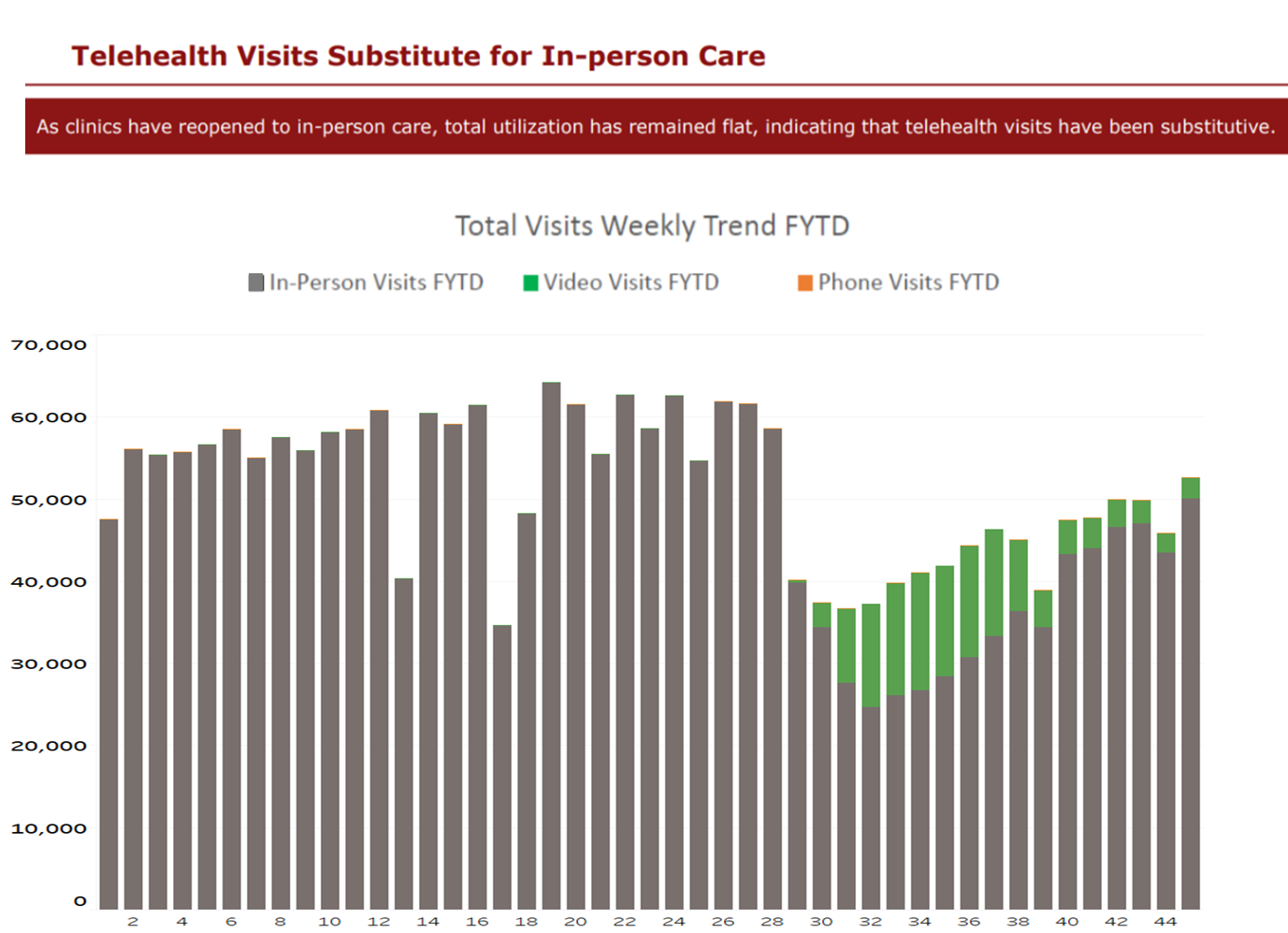 Johns Hopkins Medicine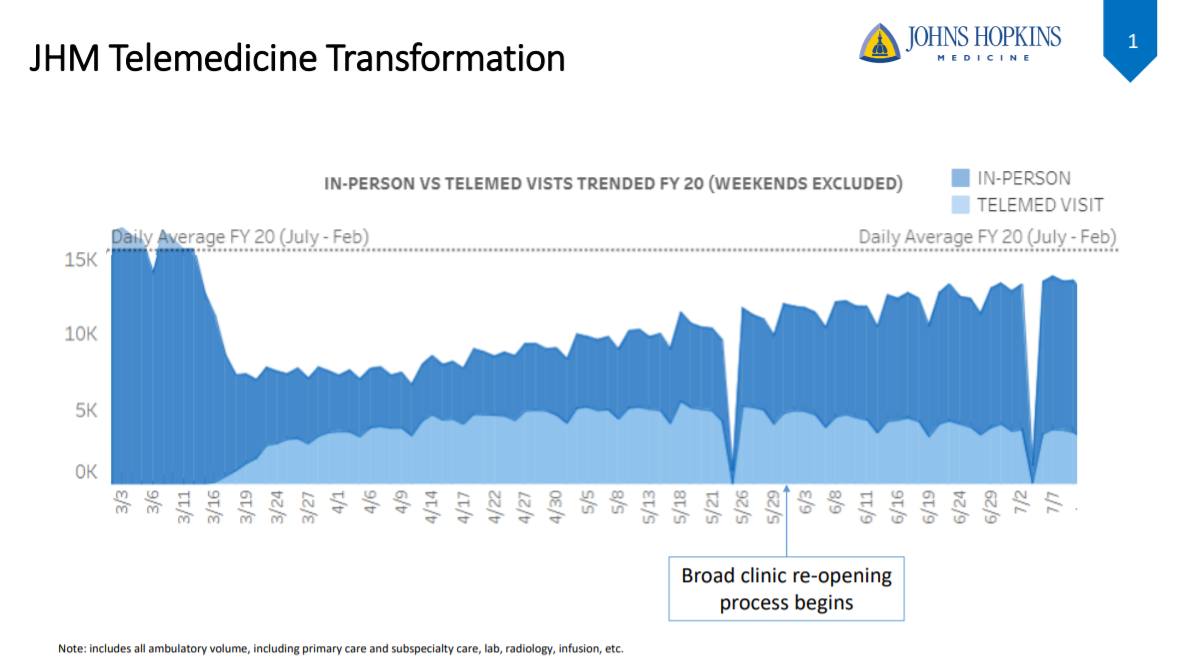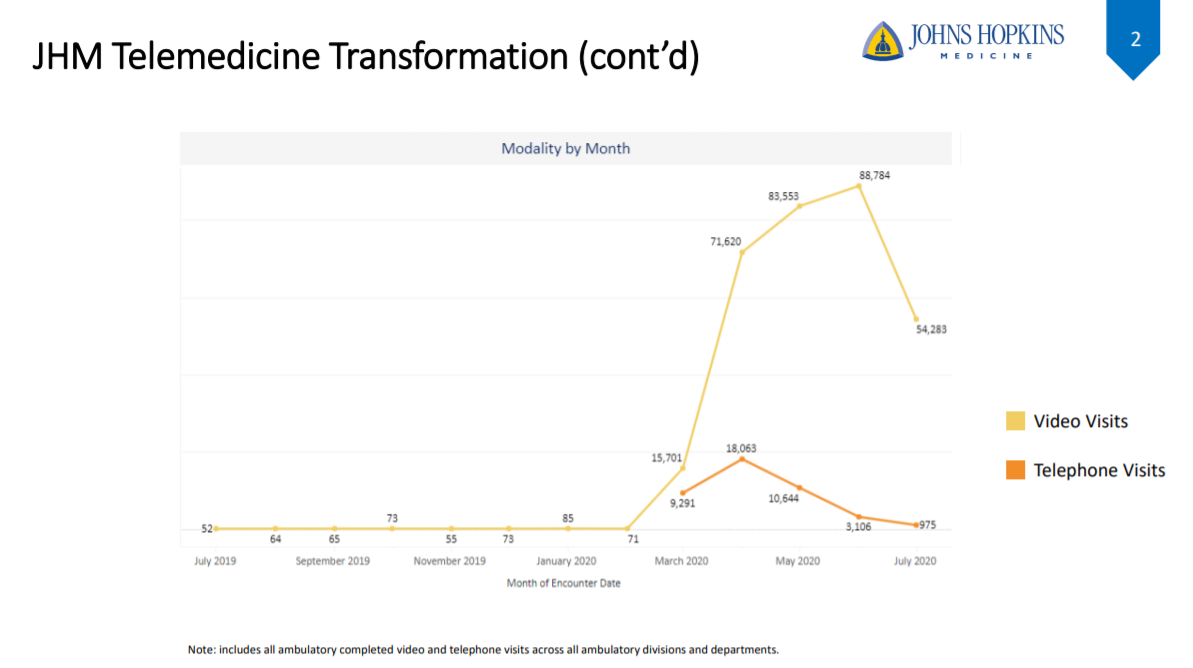 LifeSpan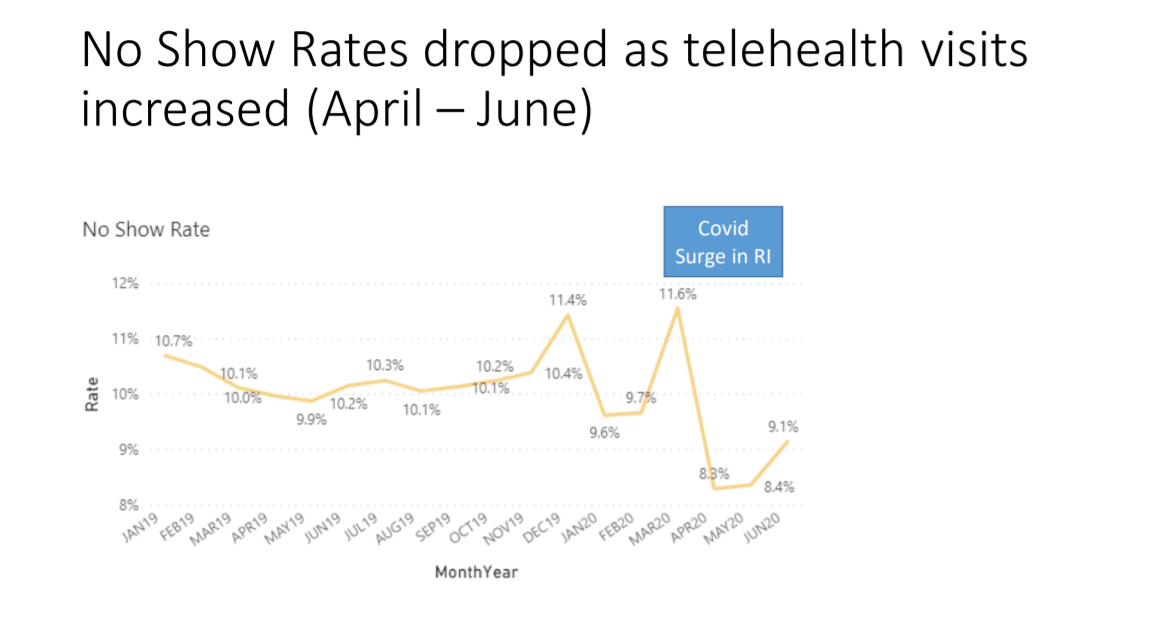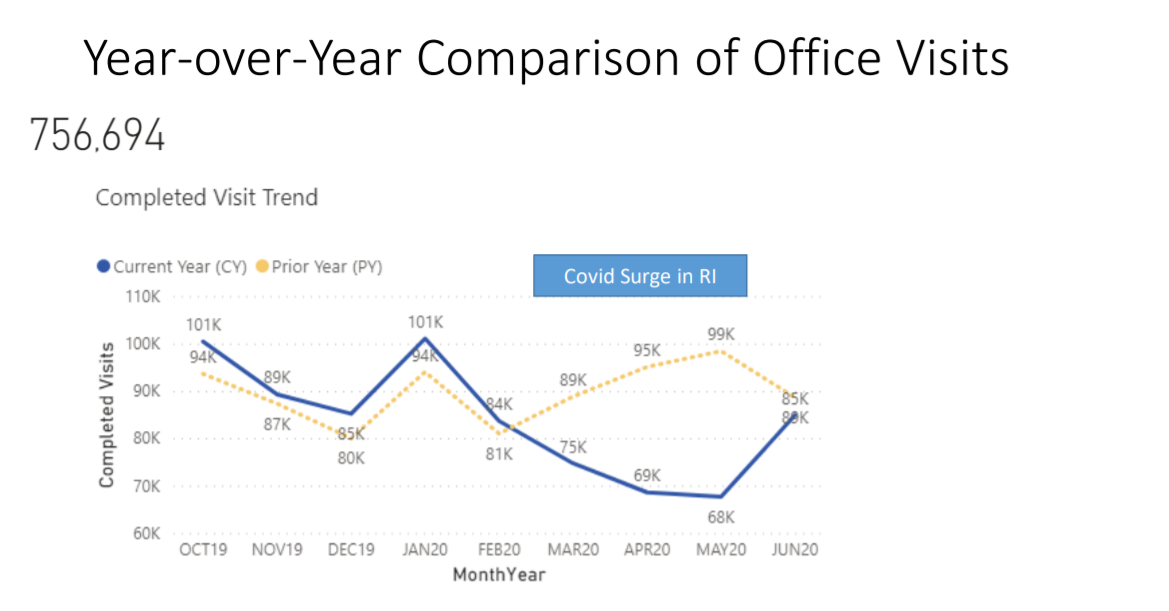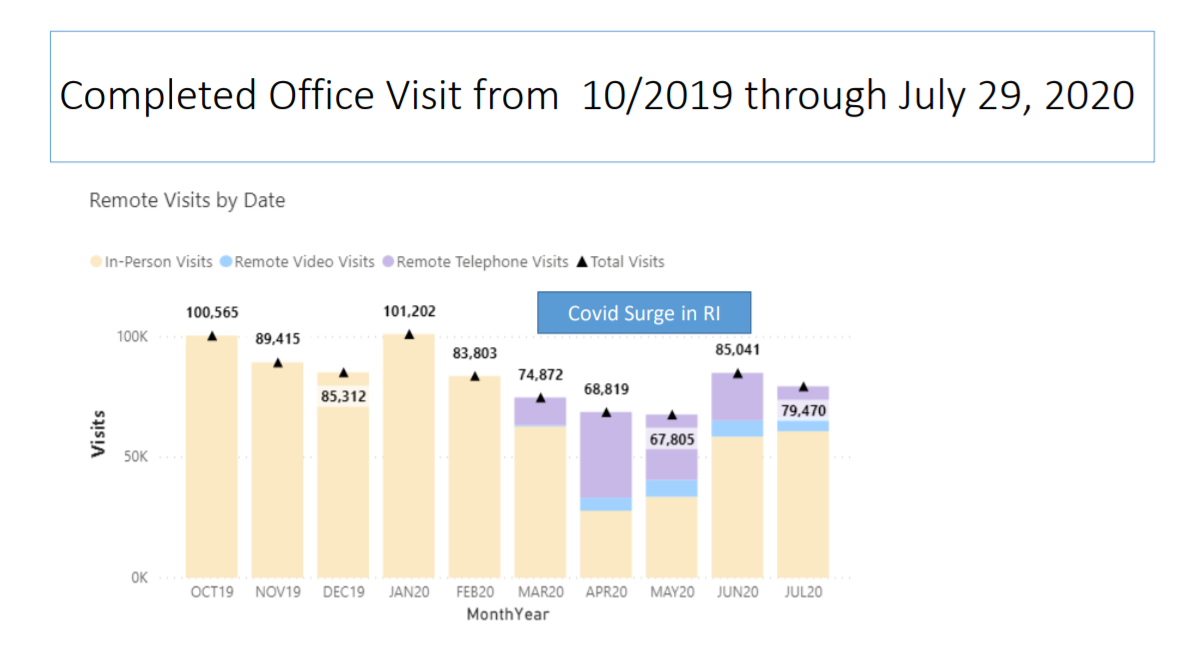 Marshfield Clinic Health System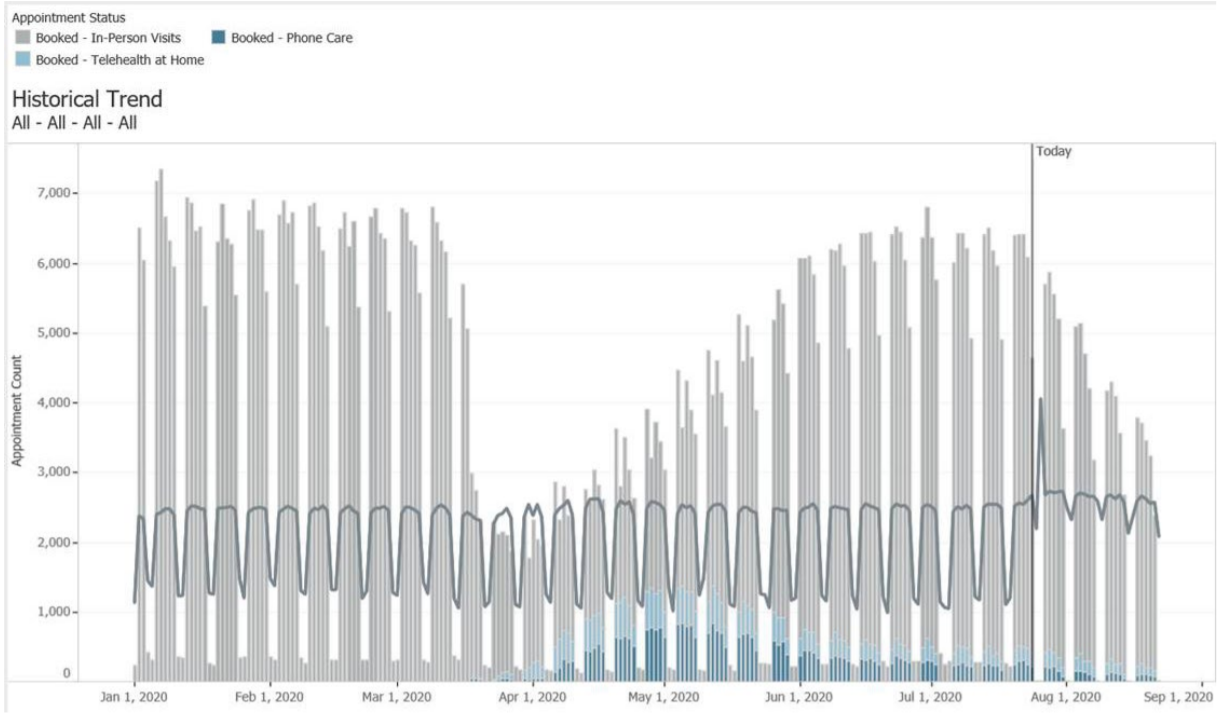 Nemours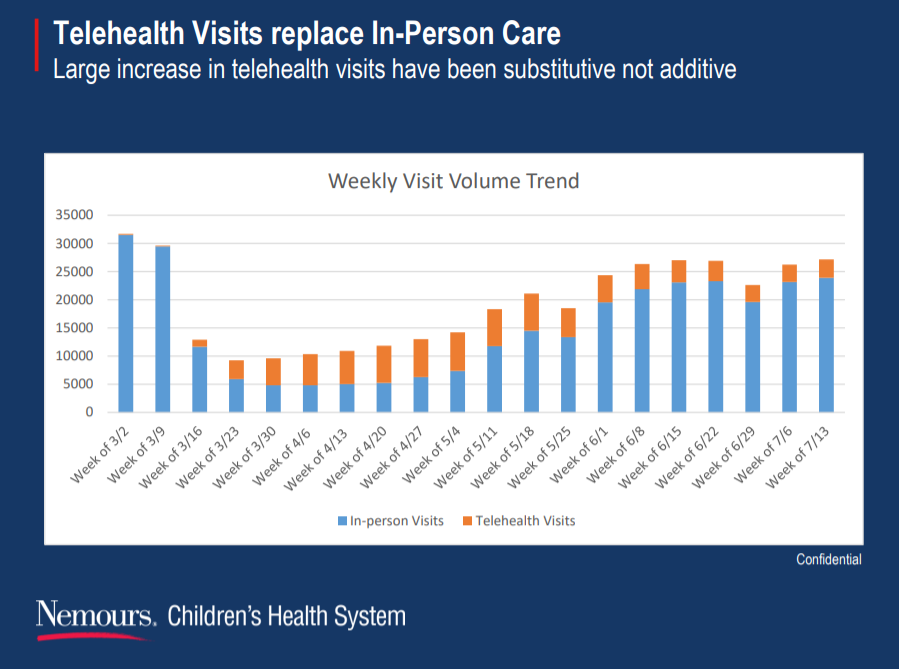 Northwestern Medicine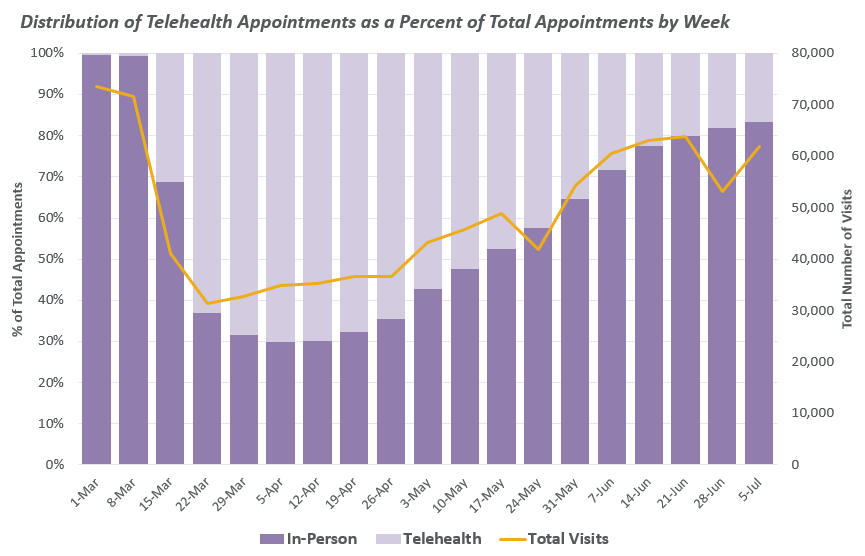 Third Eye Health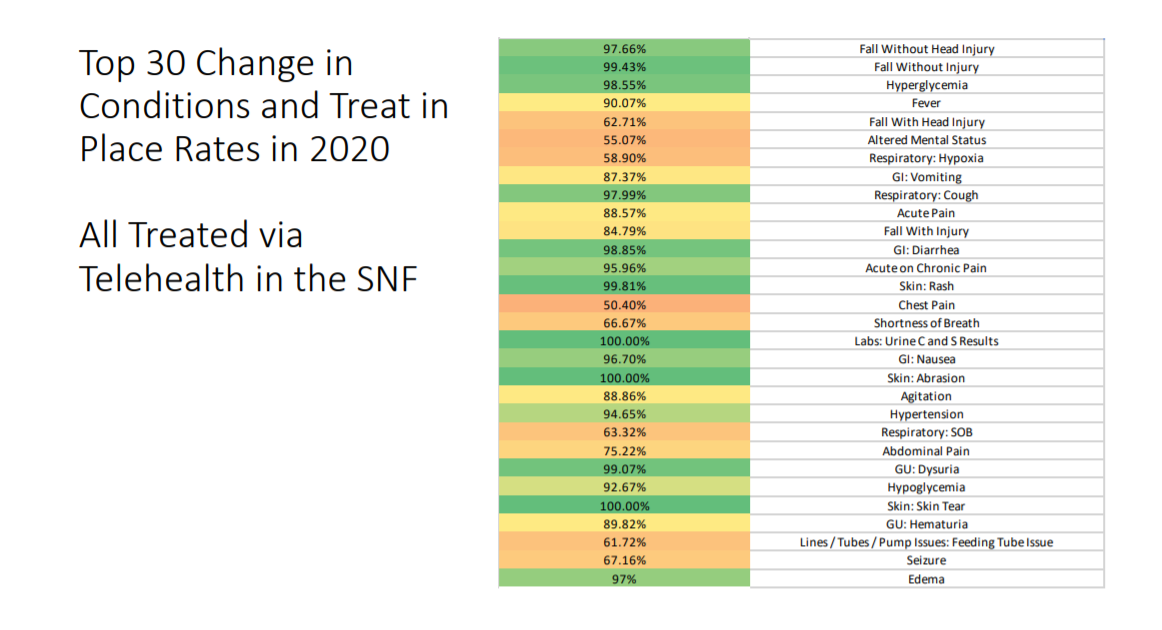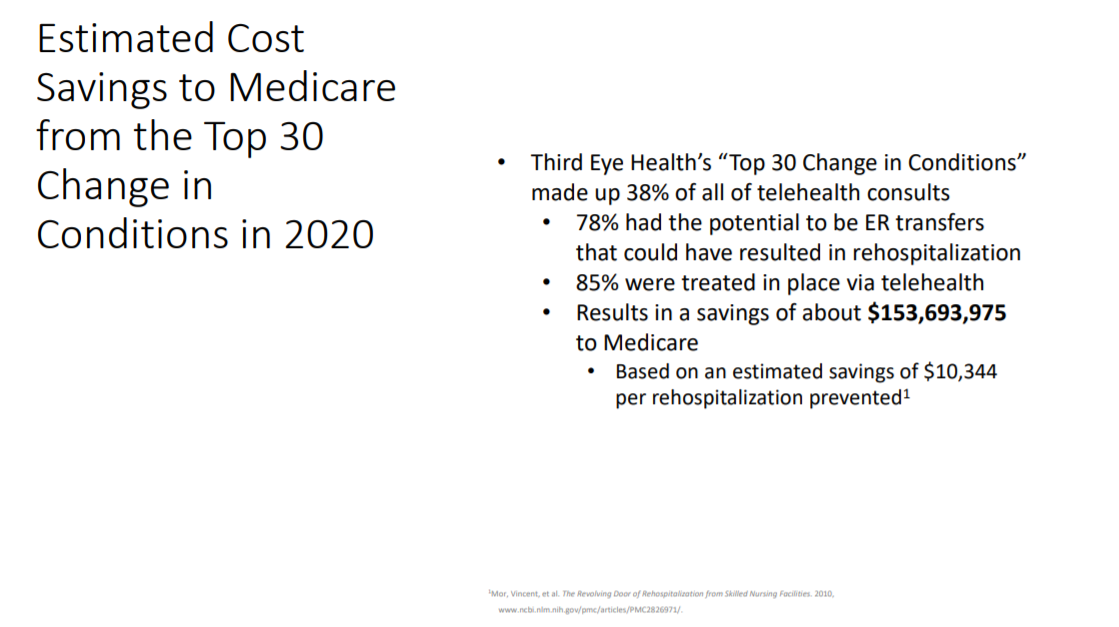 University of Pittsburgh Medical Center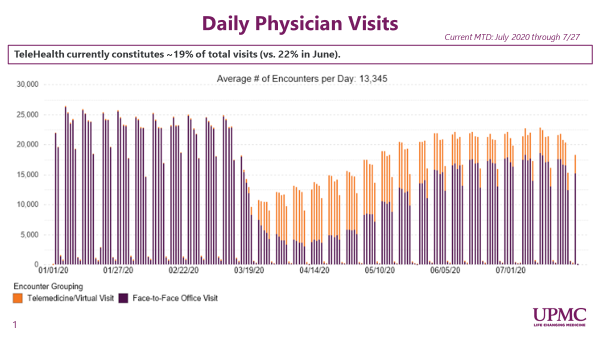 Aledade
(all doctors are in ACOs and focused on total cost of care)