Building on our important work as part of the Taskforce on Telehealth (view our final report here), the Alliance for Connected Care continues to collect data necessary to make the case for permanent telehealth policies.  We are seeking to understand what we have learned about telehealth utilization and its effect on prevention, urgent care, transportation, and etc.  Our goal is to educate a conversation about what impact expanding telehealth access in Medicare will have on federal budgeting models.
In our efforts to gather data on cost, we are asking organizations, health systems, or providers to submit data on telehealth during COVID-19. Below we have presented federal and health system telehealth data.
Top Questions:
Utilization data: to what extent is telehealth serving as a replacement for in-person care?
Demographics/Race/Ethnicity/Age distribution: To the extent you have such data, we want to
show telehealth utilization broken down by various demographics including race/ethnicity, age, gender, income, education, etc.
No-show Rates: Were no-show rates reduced, and if so, by how much?
Post-discharge: Were post-discharge transition codes (99495 and 99496) billed at a higher rate?
SNF Transfers: Did telehealth resolve skilled nursing facility -resident issues without transfer, i.e. were transfers to hospitals lower without compromising patient care?
Imaging: What happened to orders for imaging for telehealth visits, were they higher or lower for commensurate in-person care?
Please submit your data/research to crystal.wallace@connectwithcare.org.
Example:
See below for a utilization example from Stanford Health Care — Stanford was able to show in this chart how telehealth did not increase utilization, but simply represented a changed modality for the care being delivered.  We are looking for similar information from a diverse range of healthcare organizations.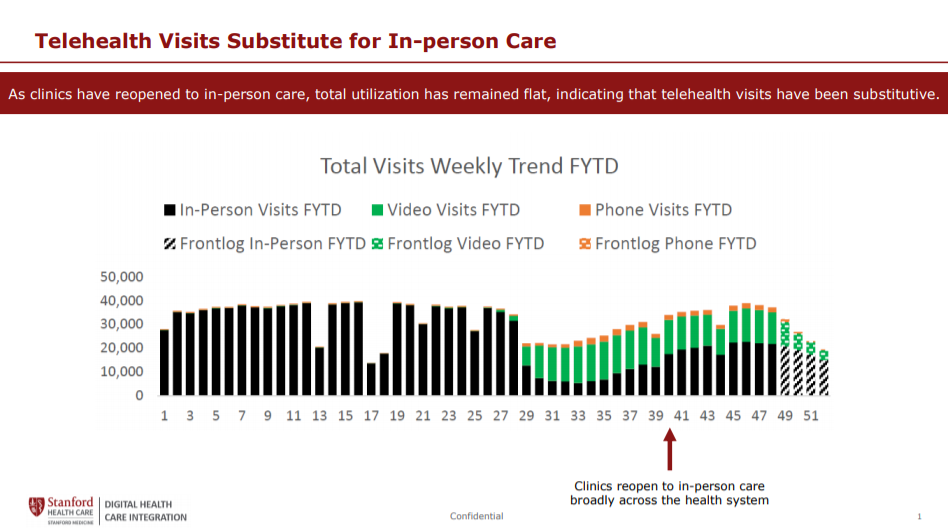 Please find linked below data on telehealth utilization in order from newest to oldest, followed by alphabetical order for:
Stanford Health Care
Ascension
Centerstone (UPDATED)
Coastal Medical, Inc.
Cook County Health
Intermountain
Johns Hopkins Medicine (UPDATED)
Marshfield Clinic
Nemours
Northwestern
Third Eye Health
Thomas Jefferson
UPMC
Aledade
Stanford Health Care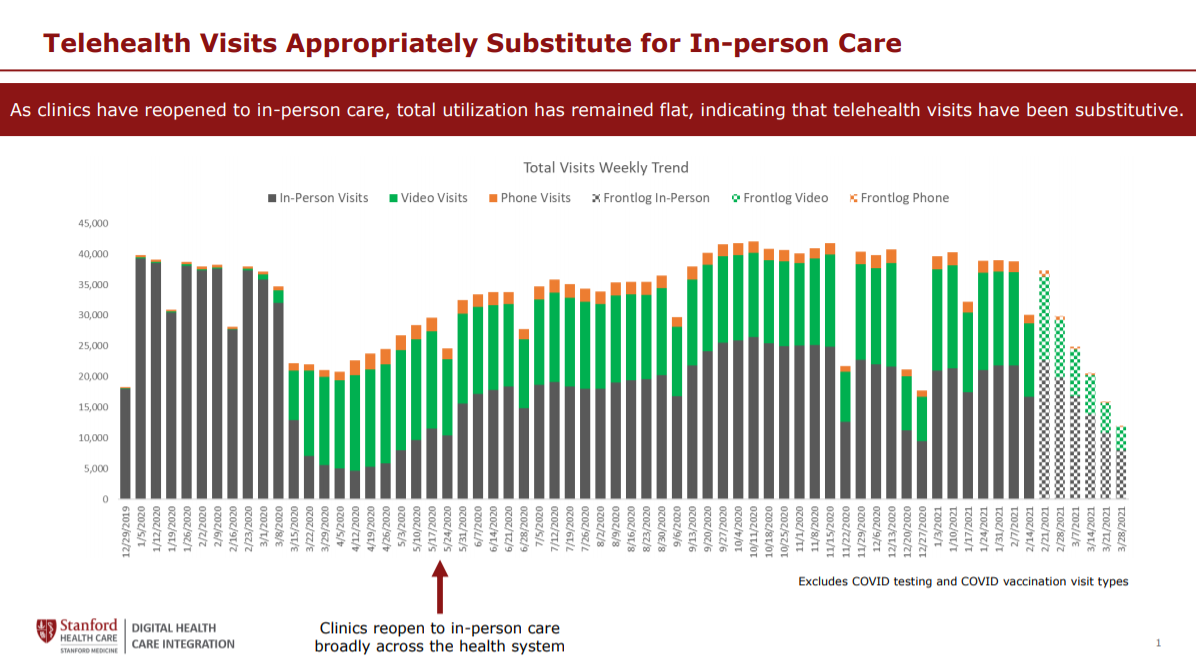 Ascension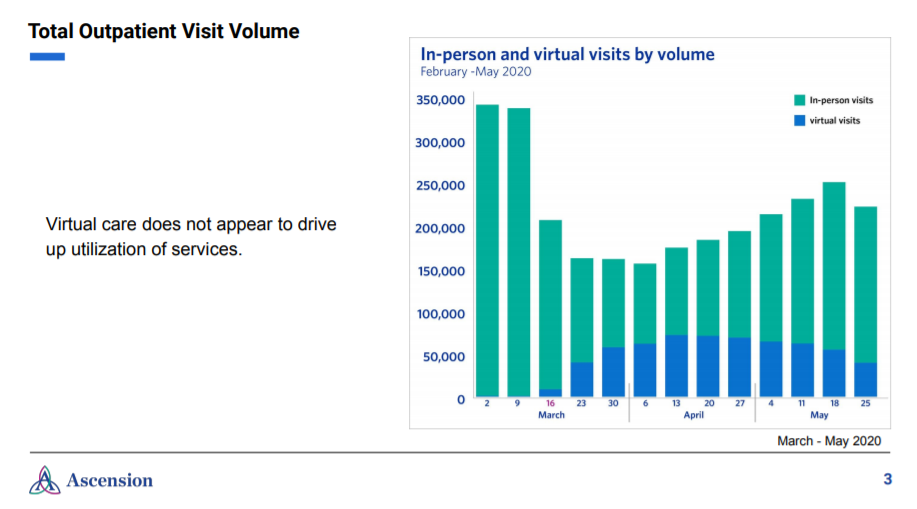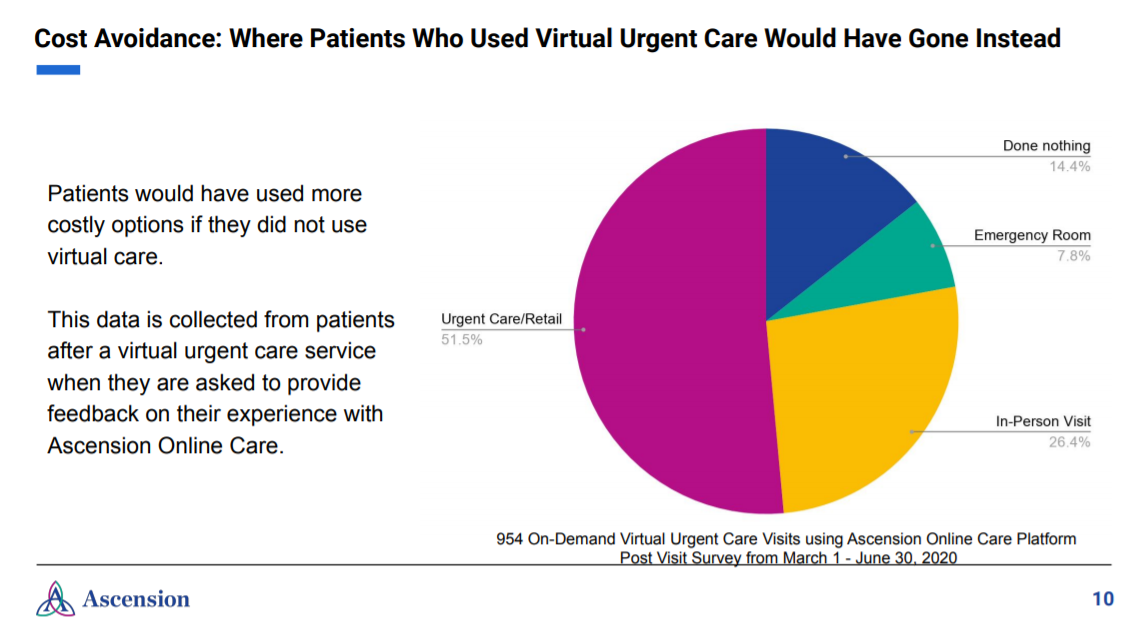 Centerstone – 2021
As offices have reopened, many consumers are returning to in-person care – but over 40% still opting for telehealth options (pre-pandemic under 5% were served via telehealth).  Our revenue per service encounter for telehealth vs in-person is slightly lower for telehealth (bc the time duration is less).  And we are not seeing an increase in utilization – however, this picture might be complicated because we are seeing an increase in demand for services – but are having significant workforce challenges.  Thus, telehealth continues to allow us to see more patients with our limited workforce in a more efficient manner.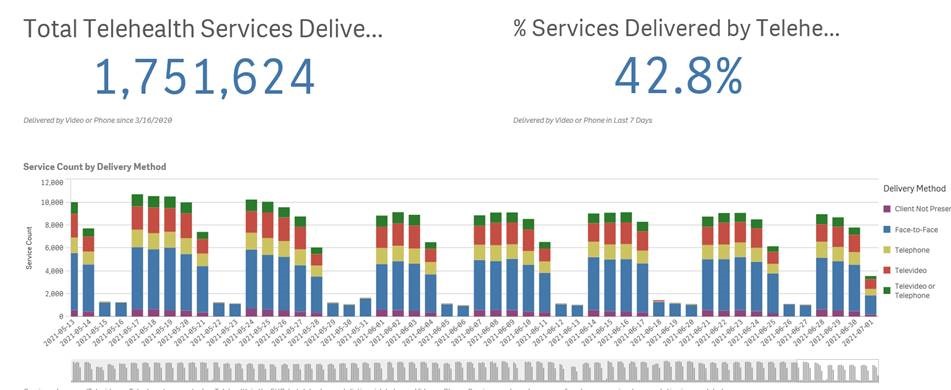 Coastal Medical, Inc.

Cook County Health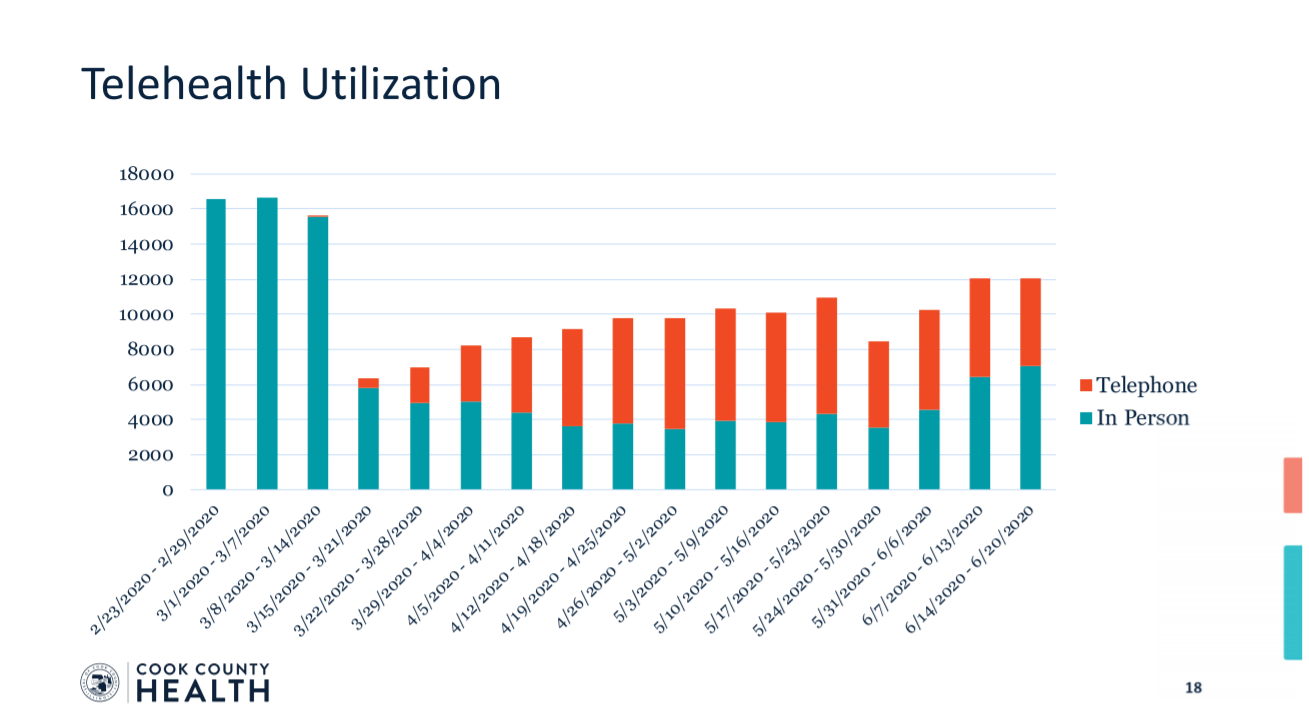 Intermountain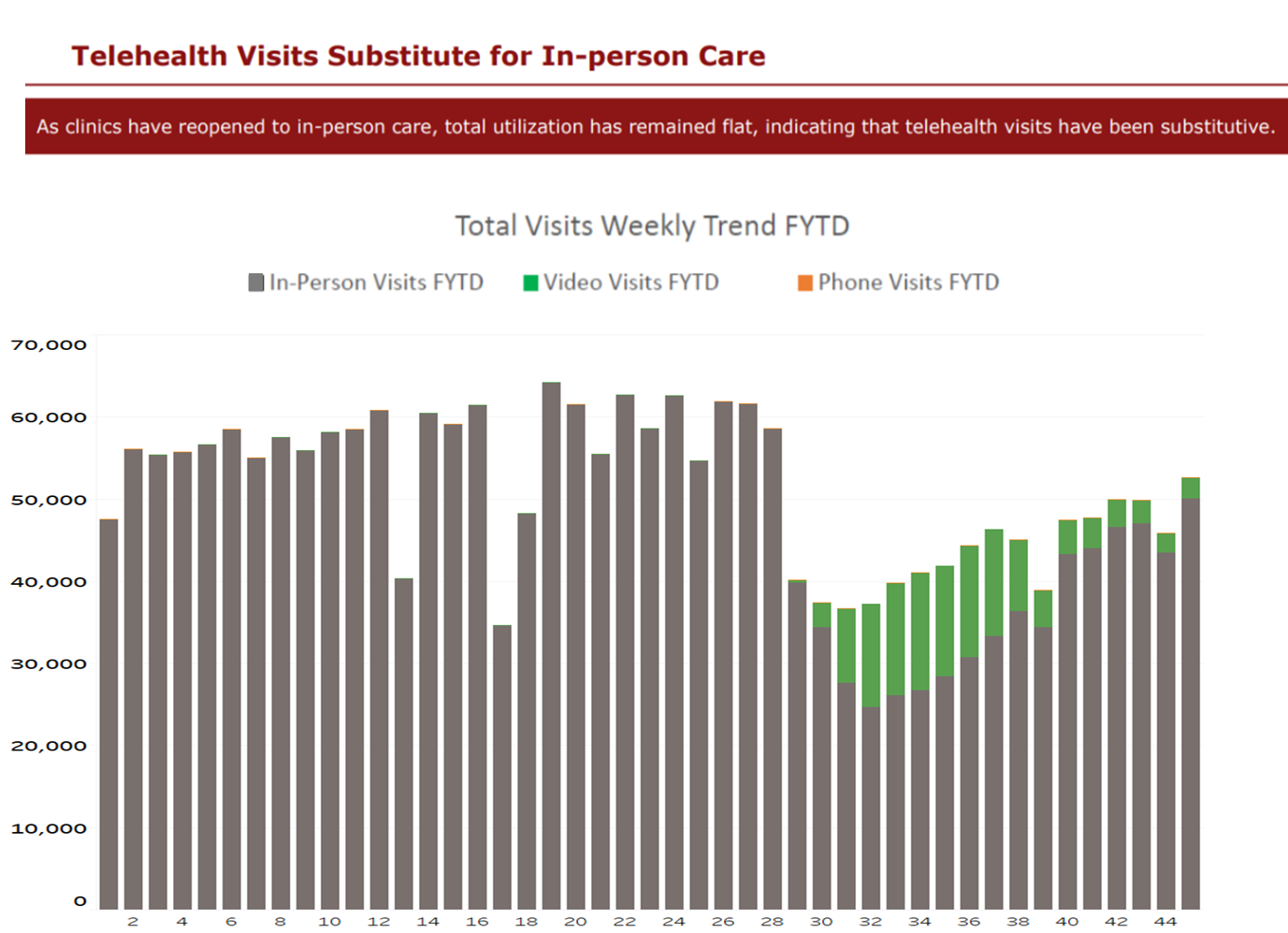 Johns Hopkins Medicine
JHM Telemedicine Overview – 6.28.21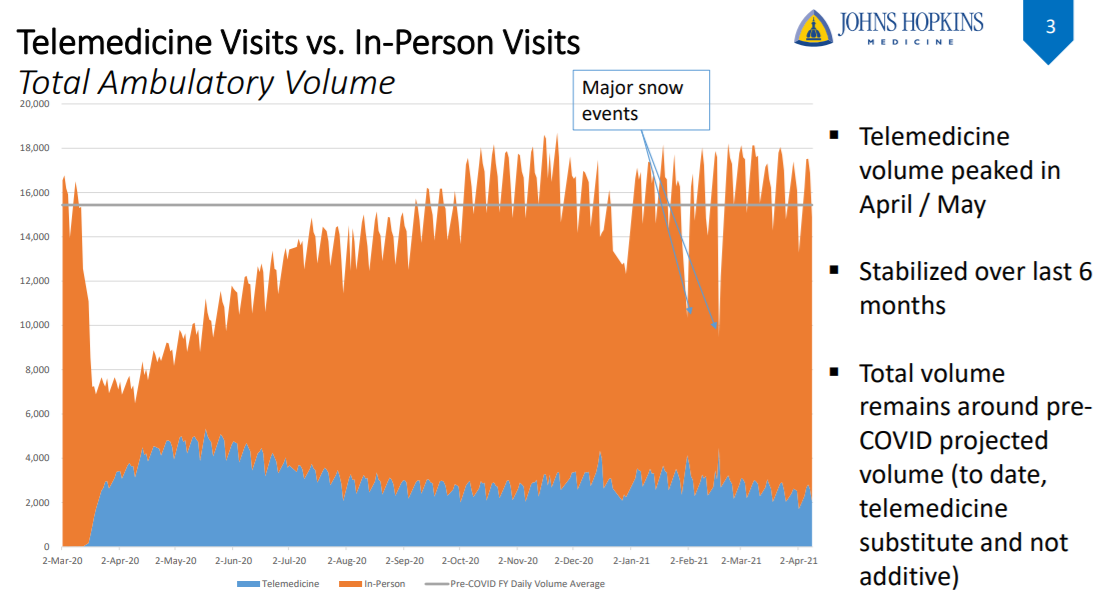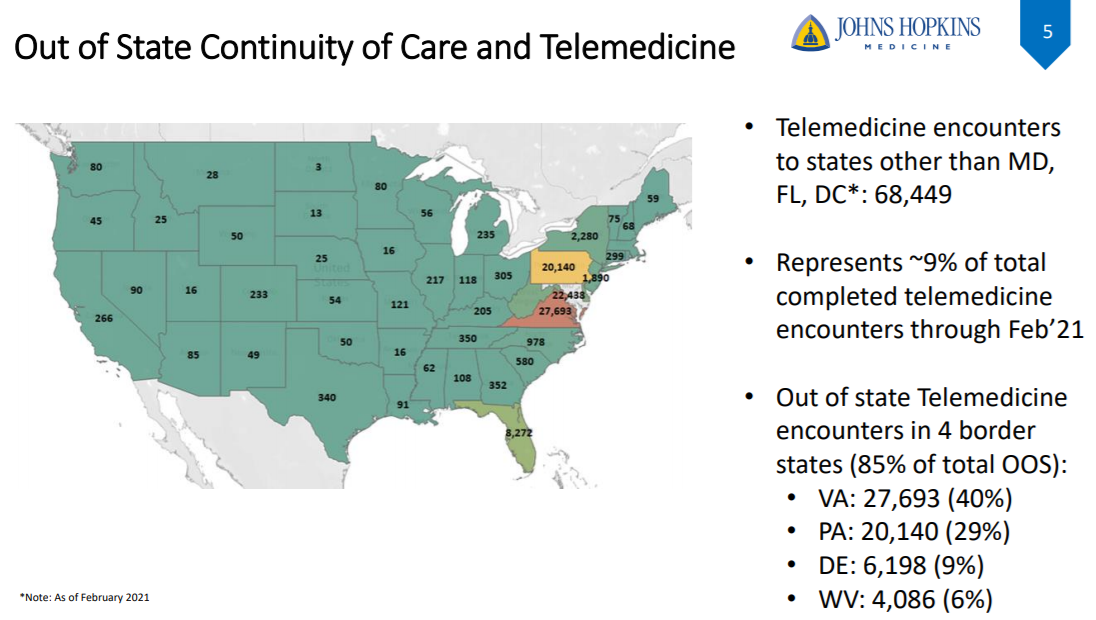 LifeSpan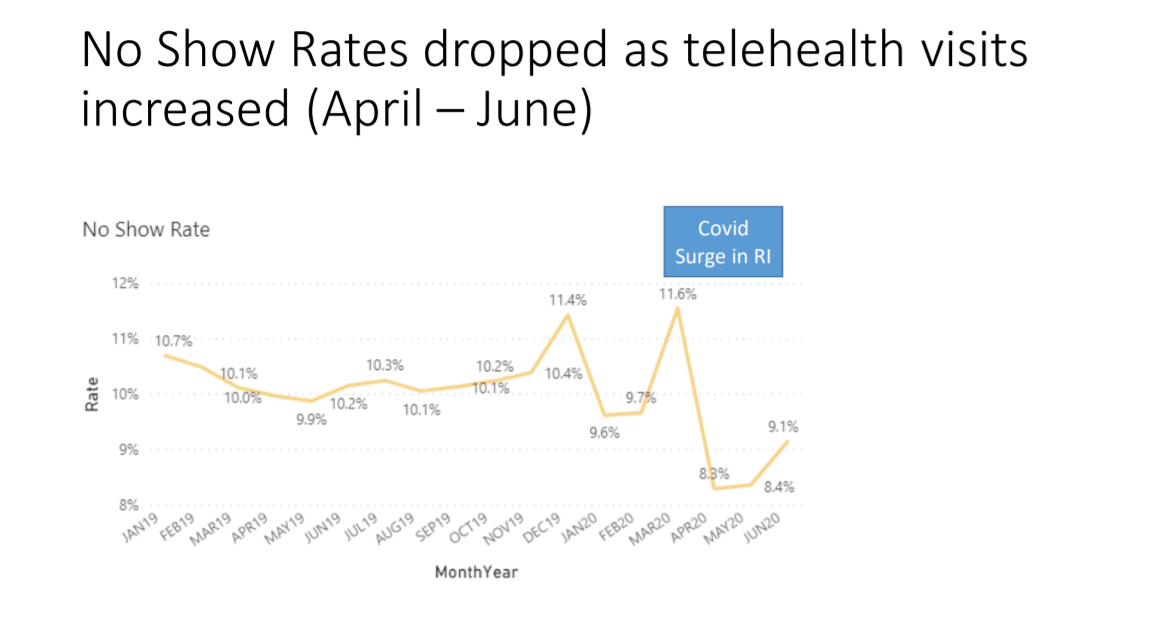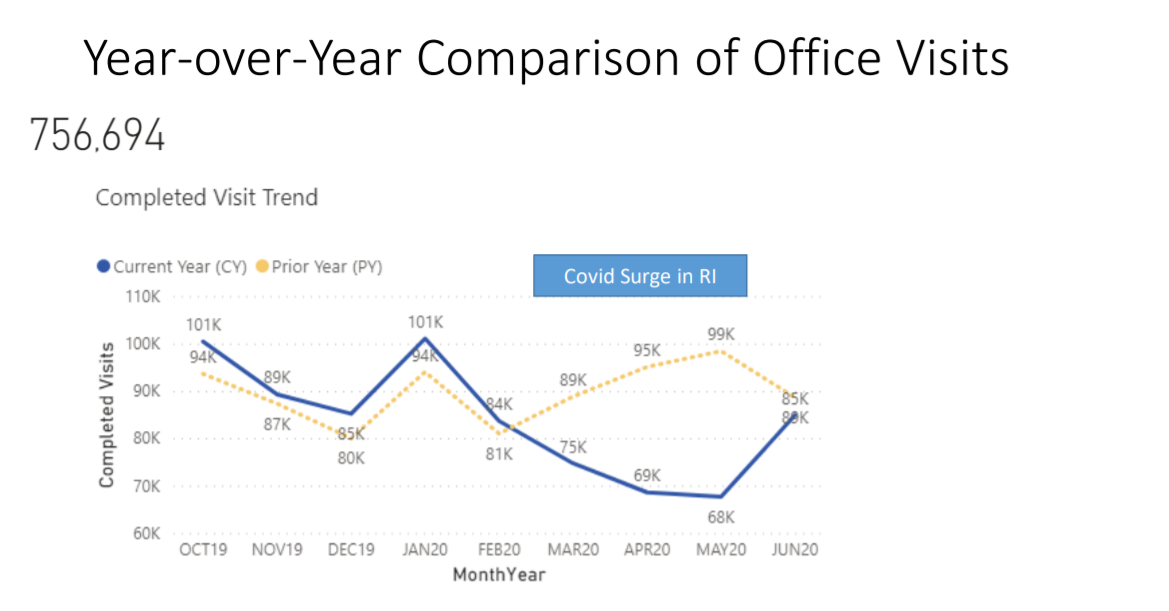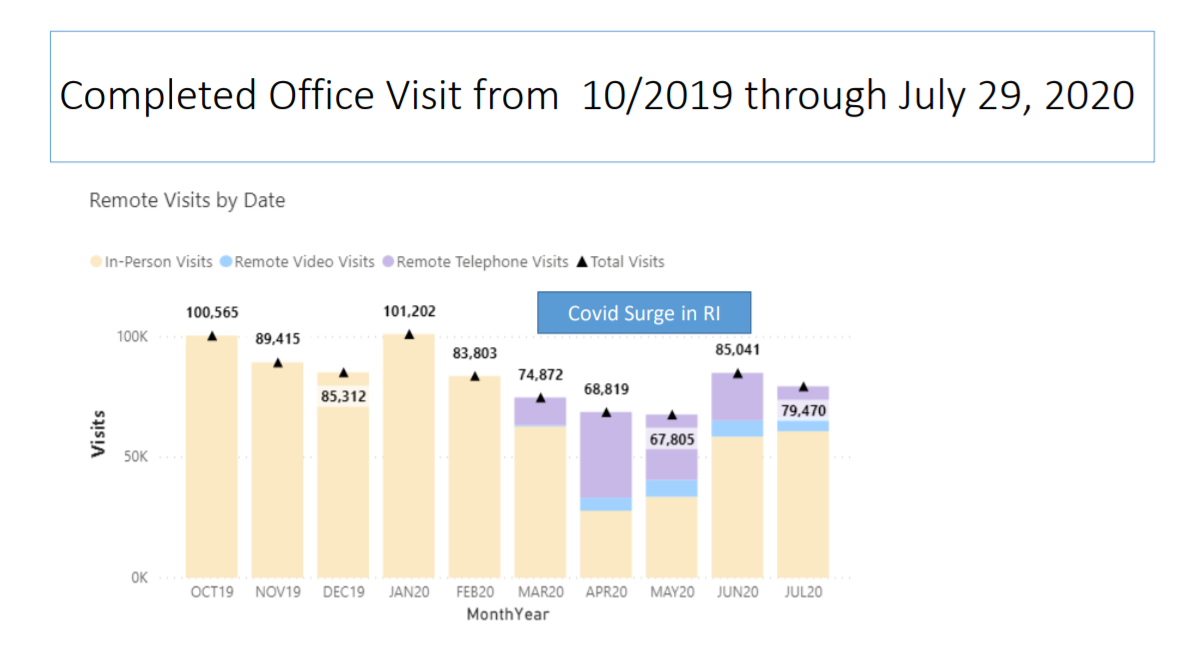 Marshfield Clinic Health System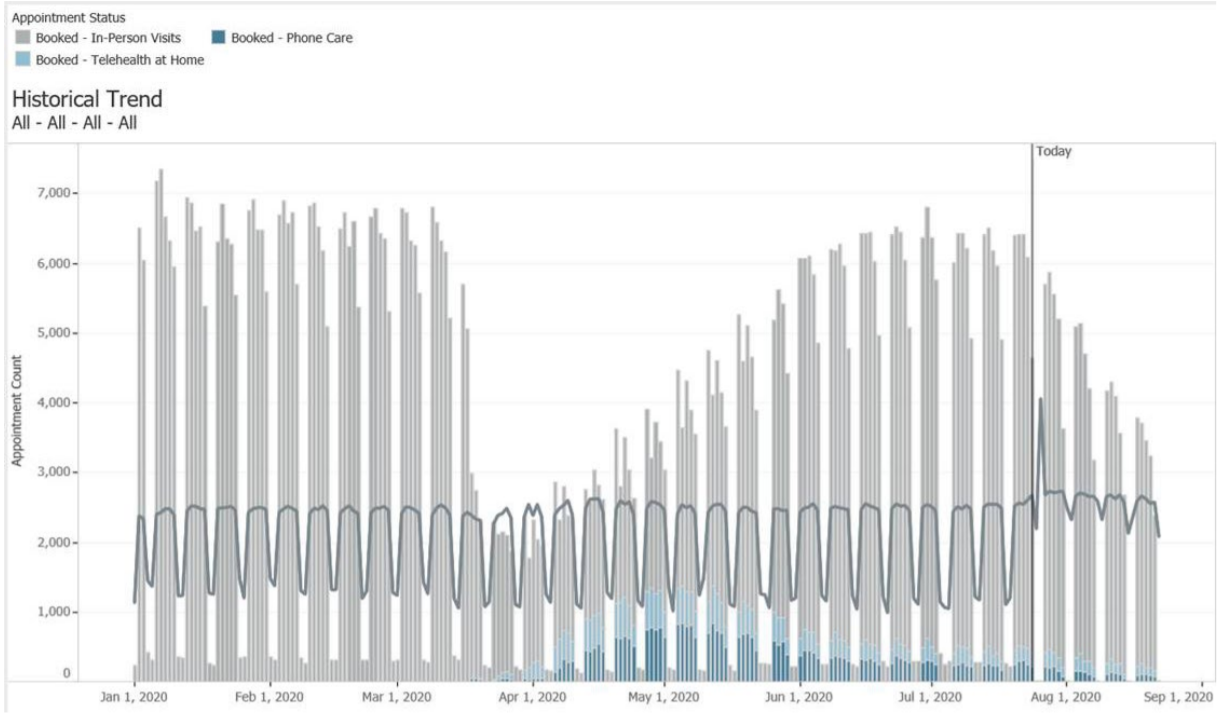 Nemours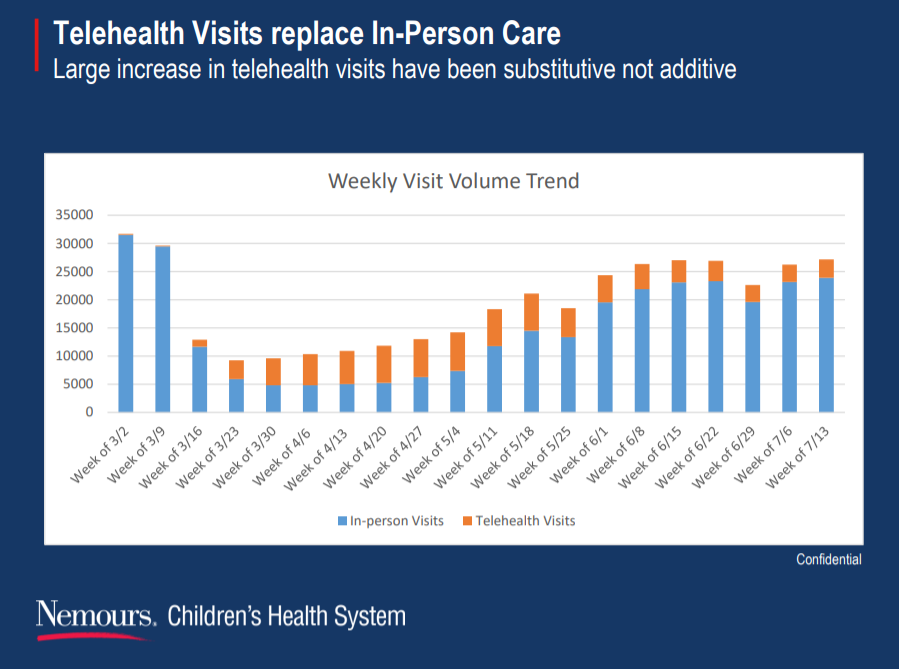 Northwestern Medicine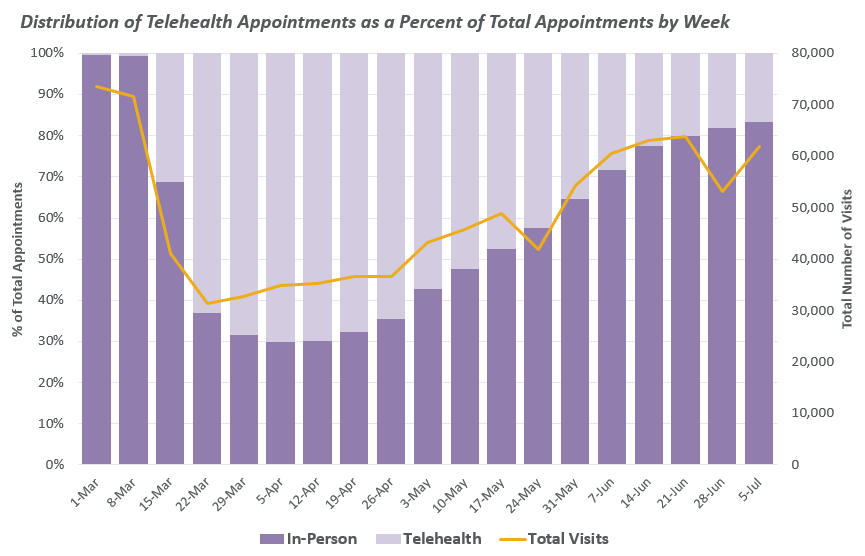 Third Eye Health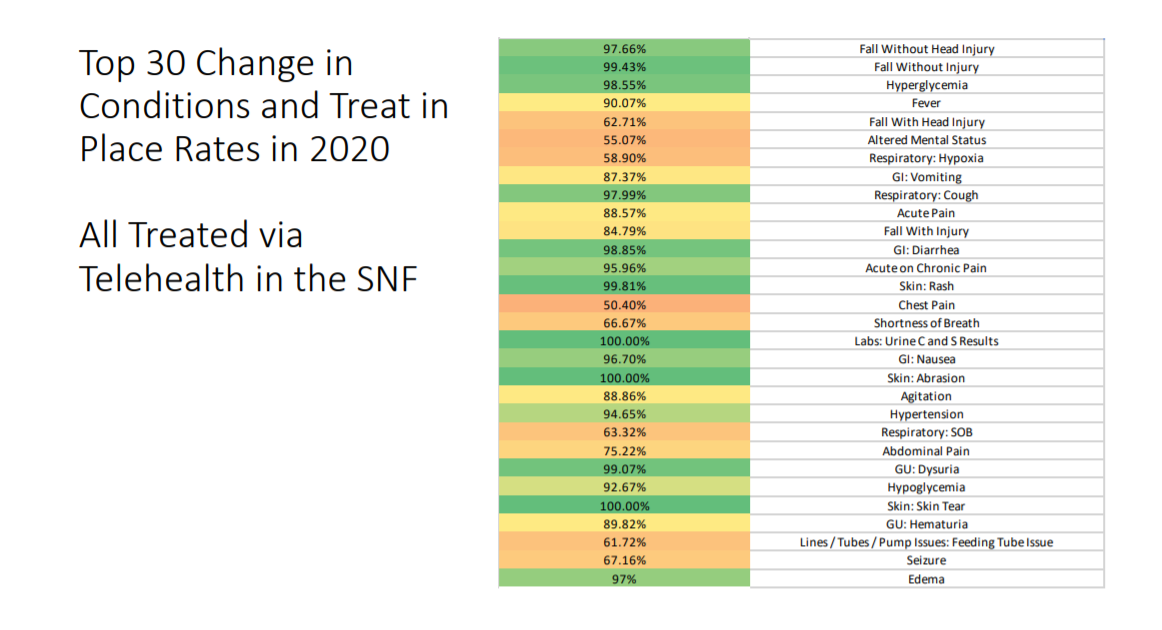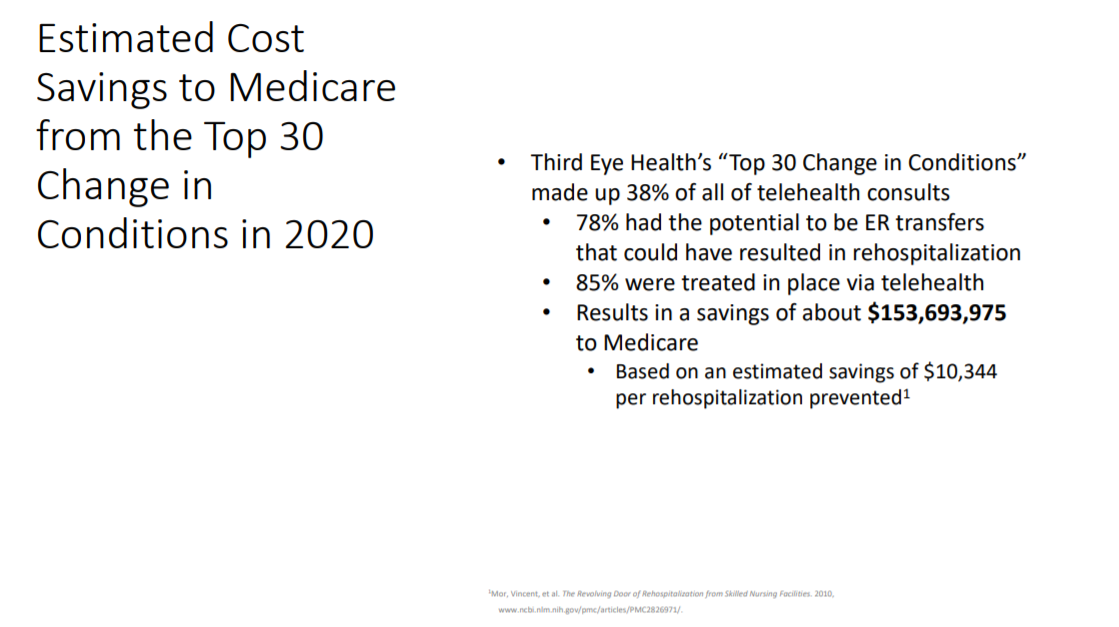 University of Pittsburgh Medical Center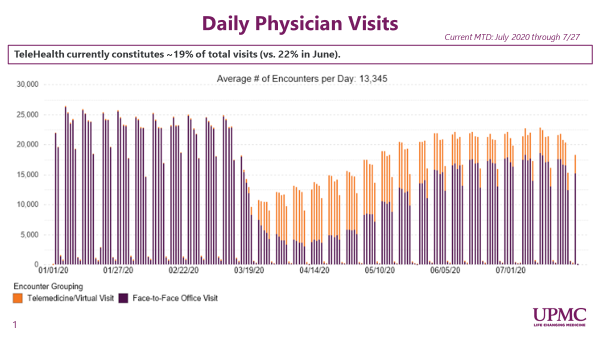 Aledade
(all doctors are in ACOs and focused on total cost of care)